12 July 2011

SOS Open Source analyzed Zarafa, the open-source alternative to Microsoft Exchange, maintained by the homonymous company headquartered in  the Netherlands (Delft) with offices in Germany and Brasil. The Zarafa Summer Camp 2011 was the perfect venue to share our findings around Zarafa (presentation), if you missed our keynote read below to know more this open source messaging and collaboration platform.
Zarafa was released as open source about three years ago, but before that it was already considered a viable alternative to Microsoft Exchange, and its code base results mature and stable (information inferred from the public bug-tracking system). A book specialized on Zarafa is on the way, case-studies are available (also from large solution providers) along with a number of forums (even in French and Portoguese). Zarafa popularity compares well with other European competitors, especially in some countries (e.g. , Austria, Germany, the Netherlands).
Zarafa is backed by a team of 10+ internal developers, with an alive and kicking ecosystem contributing extensions and integrations.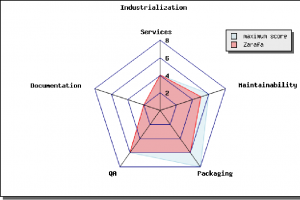 Zarafa Industrialization is solid. Documentation is available in English and also in other languages. Zarafa is mostly written in C++, while PHP is used for WebAccess. The whole code base is well commented (checked using ohcount). The project has in place tools (Trac, but minor projects under the Zarafa umbrella have been already moved to Jira) and QA procedures, and reactions to bugs are prompt. An online demo is available, as well as two different virtual appliances. The Zarafa platform is available for many Linux distributions, included Red Hat.
Commercial support and Training are available from the author and also from a number of partners.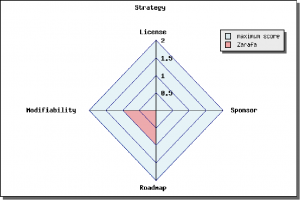 Zarafa Project Strategy.
Zarafa is building its architecture of participation providing external developers and partners with a load of documentation and tools to develop extensions. Contributors are required to sign a contributor agreement, though with some interesting obligation of Zarafa (5.2). A public SCM and a tool to provide end-users and customers with a way to propose modifications/enhancements are probably the next steps in the pipe.
A project roadmap is available, the project is modular and it is distributed under the AGPL making Zarafa maintainable and evolvable. Zarafa in many respects is the typical Single Vendor Open Source – open source software projects that are owned by a single firm that derives a direct and significant revenue stream from the software – but the company has been good at creating and fostering a business ecosystem around the project.
Zarafa is a professional messaging & collaboration platform, suited for organizations, system integrators and distributors.