5 October 2010

SOS Open Source analyzed XWiki, the open-source Java wiki platform maintained by the homonymous company, born in France in 2004 and now based in France and Romania.
Let's start from the source code. XWiki code base is stable and mature. While the are no books specialized on XWiki, there are few books covering XWiki basics and case-studies available (also from 3rd parties).
XWiki popularity compares well to others in its class, despite the news volume is low.
XWiki Quality Assurance procedures are effective,  XWiki is mostly written in Java and well-commented.
XWiki documentation is diversified, but is available only in English.
To try XWiki you need to download and install it, video tutorials in English, French and German are available.
Commercial support is available from the author and also from some resellers and technology partners, Training services are offered only by XWiki.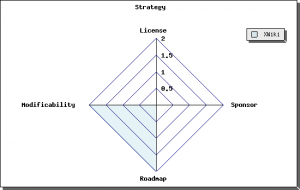 XWiki Project Strategy.
XWiki architecture of participation is open to its core and not only for peripheral participation (extensions, plugins, etc). XWiki welcomes different kind of contributors – ranging from core Committers to research project committers – and external contributors are not forced to sign any contribution agreement.
The XWiki Project Health page reports many information about its committers, source repository and mailing-lists.
The availability of a detailed roadmap along with project's modularity, LGPL licensing and the accessibility to production processes proves XWiki maintainability and evolvability to be a reality.
XWiki is a professional and sustainable wiki platform, suited both for organizations and system integrators.